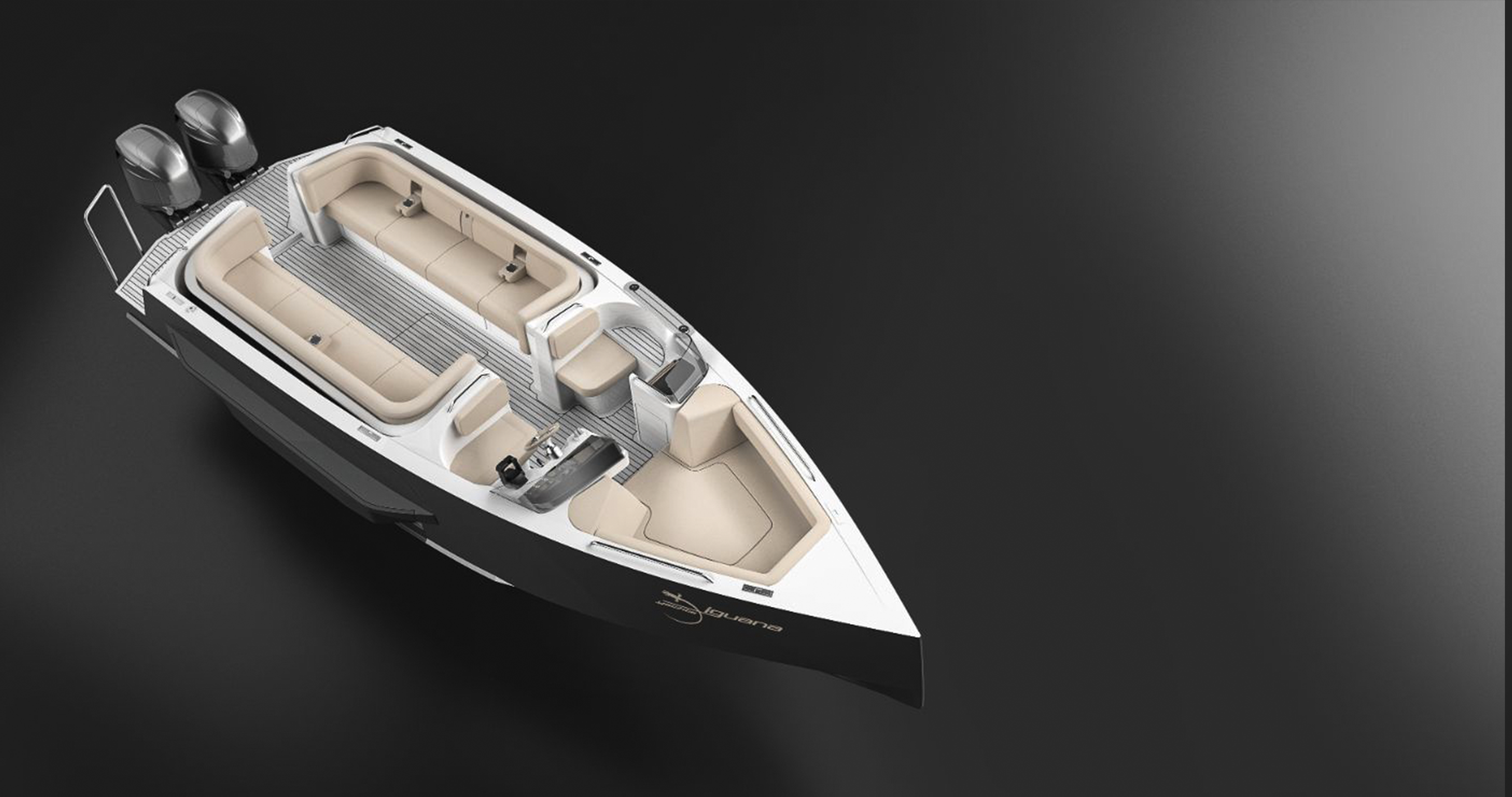 Protection
Being protected from the wind, rain and sea spray is a key element of keeping guests comfortable. Iguanas innovative design is simple, smart and efficient. Neatly stored behind the backrest, the dodger deploys in 4 possible positions and protects the guests in all conditions.
Accessibility
The first experience when getting onboard this stunning tender is the space and the welcoming layout. The seating is arranged to provide privacy and comfort for all guests.
Comfort
Amphibious is not all about keeping your feet dry, but getting ashore safely. Protect guests from the swell and boat wash which plagues many docks and beaches. The seats on the Day Limo are generously proportioned. The folding arm rests and integrated cup holders are ergonomically designed. When stowed, the main seating area will accommodate an extra 2 guests comfortably; a requirement on a tender this size.Having the capacity to comfortably welcome12 guests is a great feature.
FACILITATE CREW OPERATIONS
A superyacht tender needs to be spacious for guests but also compact to fit in a yacht garage. At only 1,75m high the Iguana Day Limo fits even the slimmest of superyacht garages.
Drawers under the guest seat allow storage of shoes and personal belongings whilst the foredeck luggage storage holds 6 suitcases. A sliding fridge in the console ensures drinks are always chilled and readily accessible.
Ergonomically placed handholds. The blend of luxury tender with the Iguana mobility system makes arriving on a beach seamless and rewarding. Side access is designed for all types of yachts and marinas from high docks to swim platforms. Boarding the Iguana is well thought out for ease and safety.
Remote diagnosis and 3 years full warranty. 24/7 assistance with the Iguana service pack.
Overall Length: 9.20 m / 30′
Beam: 2.75 m / 9′
Weight: 3 000 kg / 6 614 lbs
Minimum Height: 1.75 m / 5'9"
Capacity: 12 guests + 2 crew
Maximum Speed: 40 kts
Integral Fuel Tank: 380 L
Maximum Ground Speed: 7 kmh / 4.4 mph
Maximum Power: 600 HP
Brochure: Download
If you have any questions about IGUANA DAY LIMO feel free to contact us
Call +385 (0)91 72 71 866 send E-mail to info@alb.hr or fill form