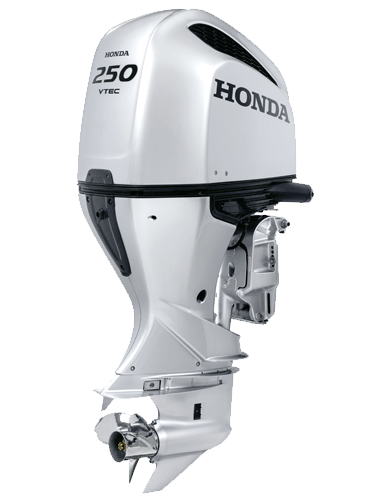 UPDATED ENGINE – UPDATED PERFORMANCE
Entering the next power range, Honda's brand new BF250 combines a powerful 3.6L V6 EFI engine with the world's first direct air induction system to deliver outstanding performance.
Beneath its distinct progressive V cowl, the BF250 incorporates exclusive Honda technologies:
BLAST™
Big powerful 3.6 litre V6
VTEC™
ECOmo Lean Burn Control®
NMEA 2000®
Huge 90 amp alternator
Improved corrosion resistance
Most fuel efficient in class
CARB 2006 and EPA 2008 ultra low emissions compliant
OEDA 3 star ultra low emission rating
STYLISH NEW LOOK
Reinforcing Honda's global position as a premium brand, the Aquamarine Silver colour and new aggressive, stronger styling introduce a new generation of Honda outboards. The innovative Power Intake design also creates a powerful, slim-line appearance.
LARGE DISPLACEMENT V6
New 60°, V6, 3.6L. A powerful, compact, 24-valve SOHC design, ensures superior performance, reliability and durability based on Honda's engineering excellence. This narrow V6 engine concept allows for simplified installation, particularly in multiple engine installation packages.
POWER INTAKE AIR SYSTEM
The dynamic design feature of the BF250 allows external air to be drawn directly into the engine. The result is a reduction in intake air temperature and an increase in air volume to the engine to deliver outstanding overall performance.
AUTOMATIC IDLE CHARGE
The Automatic Idle Charge system meets increasing demand from onboard electronic equipment. At idle speed, if electrical demand increases the alternator automatically produces a higher output.
'On Demand' 90amp, belt-driven alternator reduces heat build-up and provides superior battery charging capability – 48amp at trolling speed!
4-Front Corrosion Protection. A patented, 'double-sealed' multi-layered paint process. Additional sacrificial anodes have been added inside the engine and stainless steel technology, along with waterproof connectors, all enhance corrosion protection.
GEAR CASE
The all-new gear case profile of the BF250 greatly enhances the hydrodynamics of the engine, increasing underwater efficiency.
A revised gear ratio of 2:1 has also been introduced. This ratio allows the engine to produce powerful thrust and propeller grip. These two features allow the BF250 to accept much larger diameter propellers.
SHIFT LOAD CONTROL
An all-new Shift Load Control system reduces operator gear shift effort and facilitates smoother gear changing. When shifting from forward, reverse and neutral, the ECU analyses the engine speed and throttle position and in turn changes the ignition timing, modifying engine torque.
Engine
| | |
| --- | --- |
| Type | 4-Stroke, SOHC, 60˚ V6, 24 Valve |
| Displacement | 3583cc (219 cubic ins.) |
| Bore & Stroke | 89 X 96 mm |
| Full Throttle RPM Range | 5300 – 6300 RPM |
| Rated Power | 250 HP @ 5800 RPM |
| Cooling System | Water Cooled |
| Fuel Delivery | Programmed Fuel Injection |
| Ignition System | MicroComputer Programmed |
| Starting System | Electric |
| Exhaust | Through Hub |
| Lubrication | Wet Sump |
| Trim Range | -4° to +16° |
| Tilt Range | 72° |
Drive
| | |
| --- | --- |
| Gear Ratio | 2.00:1 |
| Gear Shift | F-N-R |
| Alternator (Electric Start) | 90-Amp (1118 watt) |
| Battery Charging Power | 60 Amps (756 watts) |
| Propeller | Optional |
| Power Tilt | NA |
| Power Trim & Tilt | Standard |
| Gas Assisted Tilt | NA |
| Oil Pressure Alert | Standard |
| Temperature Alert | Standard |
| Rev-Limiter | Standard |
| Speedometer Pickup | Standard |
Dimensions
| | |
| --- | --- |
| Overall Width | 660 mm / 26 inches |
Transom Height
| | |
| --- | --- |
| L Type | 508 mm / 20 in. |
| X Type | 635 mm / 25 in. |
| XX Type | 762 mm / 30 in. |
Dry Weight
| | |
| --- | --- |
| L-Type | 275 kg / 606 lbs |
| X-Type | 280 kg / 617 lbs |
| XX-Type | 285 kg / 628 lbs |
| CARB 2017 Rating | 3 Stars |
If you have a questions about HONDA MARINE OUTBOARD MOTORS feel free to contact us
Call +385 (0)91 72 71 866 send E-mail to info@alb.hr or fill the contact form