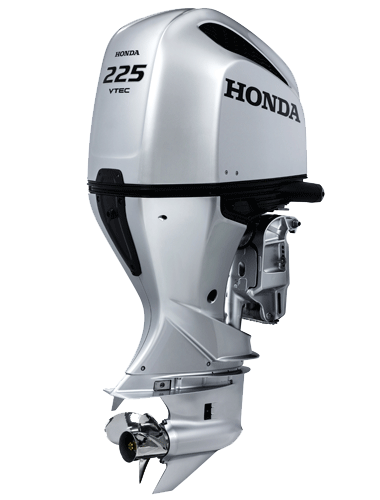 BIG ON POWER, AND SMOOTH WITH LOW FUEL CONSUMPTION.
Updated with a brand new look and whole new engine block – now larger and with even better performance.
Powered by Formula 1 technology the Honda 225hp outboard features VTEC™ for quiet powerful and fuel efficient operation. VTEC™ offers smooth and quiet idling, so quiet that the cooling water tell tale stream hitting the water is louder than the engine!
It also features BLAST™ (Boosted low speed torque) for rapid acceleration, ECOmo Lean Burn Control® for exceptional fuel economy at cruise and NMEA which enables all engine and fuel data to be viewed on a GPS screen.
Honda Large Horsepower engines use up to half the fuel of comparable two strokes and they make only half the noise.
No one ever regretted buying a Honda!
BLAST™
Increased size and more powerful 3.6 litre V6
Improved Torque performance from large displacement engine.
VTEC™
ECOmo Lean Burn Control®
NMEA 2000®
Massive 90 amp alternator – 50% more than the previous model
Lightest in class
Quietest in class
Most fuel efficient in class
CARB 2006 and EPA 2008 ultra low emissions compliant
OEDA 3 star ultra low emission rating
Can be rigged with up to four engines
NEW ENLARGED V6 ENGINE
60° V6 3.6L. A powerful, compact, 24-valve SOHC design. Lacking the bulk and weight of long intake runners and multi-camshafts, the narrow V6 design ensures superior performance and durability based on Honda's automotive engineering excellence.
'On Demand' 90amp, belt-driven alternator reduces heat build-up and provides superior battery charging capability – 48amp at trolling speed!
4-Front Corrosion Protection. A patented, 'double-sealed' multi-layered paint process. The new model has more sacrificial anodes and stainless steel technology, along with waterproof connectors, all to further enhance corrosion protection and make your new Honda 'bulletproof'.
ULTIMATE COMFORT
These engines are twice as quiet as conventional two-stroke outboards. Honda's Variable Air Intake system controls the volume and velocity of air in the combustion chamber, making cruising as smooth as it is enjoyable.
The use of linear rubber mounts, combined with innovative design features that see the flywheel positioned below the powerhead, ensures vibration levels are extremely low.
BOOSTED LOW SPEED TORQUE (BLAST™)
Hole shot and acceleration is significantly improved by MBT trace control (ignition timing). MBT – Minimum advance for Best Torque.
Advanced ignition timing develops more horsepower at low revs to get the hull up on the plane quicker. Super-strong acceleration with rapid advancement of the throttle.
This patented technology pioneers a new age in four-stroke outboard engines and will be the benchmark for future Honda engine designs.
Engine
| | |
| --- | --- |
| Type | 4-Stroke, SOHC, 60˚ V6, 24 Valve |
| Displacement | 3,583 cc (219 cubic inches) |
| Bore & Stroke | 89 x 96 mm (3.5 x 3.8 in.) |
| Full Throttle RPM Range | 5,000-6,000 RPM |
| Rated Power | 225 HP @ 5,500 RPM |
| Cooling System | Water Cooled |
| Fuel Delivery | Programmed Fuel Injection |
| Ignition System | MicroComputer Programmed |
| Starting System | Electric |
| Exhaust | Through Hub |
| Lubrication | Wet Sump |
| Trim Range | -4° to +16° |
| Tilt Range | 72° |
Drive
| | |
| --- | --- |
| Gear Ratio | 2.00:1 |
| Gear Shift | F-N-R |
| Alternator (Electric Start) | 90-Amp (1118 watt) |
| Battery Charging Power | 60 Amps (756 watts) |
| Propeller | Optional |
| Power Tilt | NA |
| Power Trim & Tilt | Standard |
| Gas Assisted Tilt | NA |
| Oil Pressure Alert | Standard |
| Temperature Alert | Standard |
| Rev-Limiter | Standard |
| Speedometer Pickup | Standard |
Dimensions
| | |
| --- | --- |
| Overall Width | 660 mm/26 inches |
Transom Height
| | |
| --- | --- |
| L Type | 508 mm/20 inches |
| X Type | 635 mm/25 inches |
| XX Type | 762 mm/30 inches |
Dry Weight
| | |
| --- | --- |
| L-Type | 275 kg/606 lbs |
| X-Type | 280 kg/617 lbs |
| XX-Type | 285 kg/628 lbs |
| CARB 2017 Rating | 3 Stars |
If you have a questions about HONDA MARINE OUTBOARD MOTORS feel free to contact us
Call +385 (0)91 72 71 866 send E-mail to info@alb.hr or fill the contact form