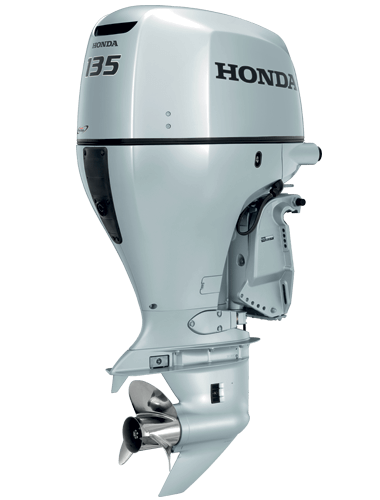 For Great Lakes or small fishing holes, only one name will do.
When you're chasing horizons, you want an outboard that delivers optimum performance and peace of mind. Which is why you want the Honda BF135. These engines created the benchmark for a new generation of marine engine technology, and they're the choice of center console, catamaran, pontoon, and bay boat owners across the country.
Honda BF135 features advanced Dual Overhead Cam, in-line four-cylinder architecture, a benefit from decades of Honda automotive and racing experience. Racing experience means more horsepower and instant throttle response. Honda's exclusive Dual-Stage Induction delivers top performance at every rpm range. And Lean Burn Control automatically adjusts the air-fuel mix to maximize power and fuel efficiency.
All of which makes it clear: when it comes to boating, nothing beats the fuel efficiency and precision standards of Honda.
LEAN BURN CONTROL®
Inclusion of Lean Burn Control® offers significantly improved fuel consumption over Direct Injection two-stroke models and even further improved consumption over competing four-stroke models.
The mode in which lean burn control is used, is referred to as ECOmo (Economy Controlled Motor).
NMEA2000® COMPATIBLE
NMEA2000® compatibility allows the engine to communicate with onboard marine electronics to deliver a wide-range of information to head-unit displays. When networked with a NMEA2000®capable marine electronics unit, engine data such as speed, rpm, temperature, fuel usage and other data can be displayed on the unit's screen.
Variable trolling speed. The system adjusts in 50rpm increments between 650-900rpm. (Trolling switch optional extra).
Three-Way Cooling. Three separate cooling circuits for more power with long-term durability.
'On Demand' 40amp, belt-driven alternator reduces heat build-up and provides superior battery charging capability – 30amp at 1000rpm and 40amp at 2000rpm+!
4-Front Corrosion Protection. A patented, 'double-sealed' multi-layered paint process. Sacrificial anodes and stainless steel technology, along with waterproof connectors, all enhance corrosion protection.
Engine
| | |
| --- | --- |
| | BF135 |
| Type | 4-Stroke DOHC 4 Cylinder/16 Valves |
| Displacement | 2,354 cc (144 cubic inches) |
| Bore & Stroke | 87 mm x 99 mm (3.4 x 3.9 inches) |
| Full Throttle RPM Range | 5,000-6,000 RPM |
| Rated Power | 135 HP @ 5,500 RPM |
| Cooling System | Water Cooled |
| Fuel Delivery | Programmed Fuel Injection |
| Ignition System | MicroComputer Programmed |
| Starting System | Electric |
| Exhaust | Through Hub |
| Lubrication | Wet Sump |
| Trim Range | -4° to +16° |
| Tilt Range | 72° |
Drive
| | |
| --- | --- |
| | BF135 |
| Gear Ratio | 2.14:1 |
| Gear Shift | F-N-R |
| Alternator (Electric Start) | 51 Amp |
| Battery Charging Power | 30 Amp (1000 RPM), 40 Amp (2000+ RPM) |
| Propeller | Optional |
| Power Tilt | NA |
| Power Trim & Tilt | Standard |
| Gas Assisted Tilt | NA |
| Oil Pressure Alert | Standard |
| Temperature Alert | Standard |
| Rev-Limiter | Standard |
| Speedometer Pickup | Standard |
Dimensions
| | |
| --- | --- |
| | BF135 |
| Overall Width | 580 mm/22.8 inches |
Transom Height
| | |
| --- | --- |
| | BF135 |
| L Type | 508 mm/20 inches |
| X Type | 635 mm/25 inches |
Dry Weight
| | |
| --- | --- |
| | BF135 |
| L-Type | 217 kg/478 lbs. |
| X-Type | 220 kg/485 lbs. |
If you have a questions about HONDA MARINE OUTBOARD MOTORS feel free to contact us
Call +385 (0)91 72 71 866 send E-mail to info@alb.hr or fill the contact form