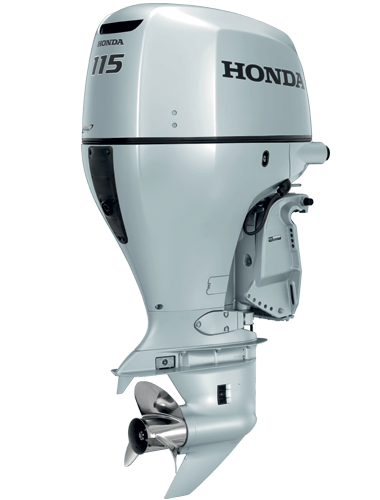 Better features. Better technology. Better boating.
When you're out on the water, you want a reliable outboard that will take you places. And of course, Honda's world famous quality is a no brainer in that department. But the BF115 is much more than that. It's got better features and better, more advanced technology that make your boating experience that much better.
Like best in class displacement. NMEA 2000 certification. Honda's exclusive BLAST and Lean Burn Control for class-leading performance and maximum fuel efficiency. An impressive 40 AMPs of charging power, plus variable speed trolling. And we're just getting started.
NMEA2000 COMPATIBLE®
NMEA2000® compatibility allows the engine to communicate with onboard marine electronics to deliver a wide-range of information to head-unit displays. When networked with a NMEA2000®capable marine electronics unit, engine data such as speed, rpm, temperature, fuel usage and other data can be displayed on the unit's screen.
LEAN BURN CONTROL®
Inclusion of Lean Burn Control offers significantly improved fuel consumption over Direct Injection two-stroke models and even further improved consumption over competing four-stroke models.
The mode in which Lean Burn Control® is used, is referred to as ECOmo (Economy Controlled Motor).
Variable trolling speed. The system adjusts in 50rpm increments between 650-900rpm. (Trolling switch optional extra).
Three-Way Cooling. Three separate cooling circuits for more power with long-term durability.
'On Demand' 40amp, belt-driven alternator reduces heat build-up and provides superior battery charging capability – 30amp at 1000rpm and 40amp at 2000rpm+!
4-Front Corrosion Protection. A patented, 'double-sealed' multi-layered paint process. Sacrificial anodes and stainless steel technology, along with waterproof connectors, all enhance corrosion protection.
Engine
| | |
| --- | --- |
| Type | 4-Stroke DOHC 4 cylinder/16 Valves |
| Displacement | 2354cc (144 cubic ins.) |
| Bore & Stroke | 87 x 99 mm (3.43 x 3.9 ins.) |
| Full Throttle RPM Range | 4500-6000RPM |
| Rated Power | 115 HP @ 5250 RPM |
| Idling Engine Speed Range | 750 + 50 RPM |
| Optional Variable Trolling Range | 650 RPM (Adjustment range: 650-900RPM) |
| Cooling System | Water Cooled |
| Fuel Delivery | Programmed Fuel Injection |
| Ignition System | MicroComputer Programmed |
| Starting System | Electric |
| Exhaust | Through Hub |
| Lubrication | Wet Sump |
| Trim Range | -4° to +16° |
| Tilt Range | 68° |
Drive
| | |
| --- | --- |
| Gear Ratio | 2.14:1 (30/14) |
| Gear Shift | F-N-R |
| Alternator (Electric Start) | 55 Amps Total (40 Amps Charging) |
| Propeller | Optional |
| Power Tilt | NA |
| Power Trim & Tilt | Standard |
| Gas Assisted Tilt | NA |
| Oil Pressure Alert | Standard |
| Temperature Alert | Standard |
| Rev-Limiter | Standard |
| Speedometer Pickup | Standard |
Dimensions
| | |
| --- | --- |
| Overall Width | 680 mm/22.8 inches |
Transom Height
| | |
| --- | --- |
| L Type | 508 mm/20 inches |
| X Type | 635 mm/25 inches |
Dry Weight
| | |
| --- | --- |
| L-Type | 217 kg/478 lbs. |
| X-Type | 220 kg/485 lbs. |
If you have a questions about HONDA MARINE OUTBOARD MOTORS feel free to contact us
Call +385 (0)91 72 71 866 send E-mail to info@alb.hr or fill the contact form