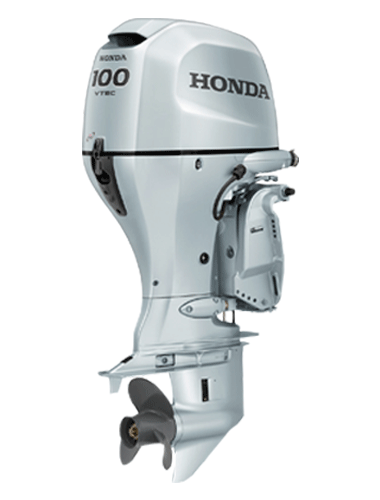 With a powerful 1.5L, Single Over Head Cam shaft (SOHC), 16-valve, inline four-cylinder engine, the BF100 is ready to set new levels of performance in the 100hp sector.
A perfect blend of Honda's world renowned marine and automotive technologies, light weight and compact design assures these engines are a firm favourite with boating enthusiasts.
Provision of PGM-FI, Blast, and ECOmo, combine to ensure a perfect blend of power and fuel economy throughout the engine operating range. The 100hp also has VTEC™ functionality which assist performance by introducing two sets of cam shaft profiles for a wider operating range.
The BF100 is simplified easy connectivity with other popular NMEA2000® equipment, such as chart plotters or fish finders.
Trolling control between 650–1000rpm provides accurate slow speed control, ideal for fishing or marina maneuvering.
BEST IN CLASS
The BF80 and BF100's 1.5L, SOHC, 16-valve, inline four-cylinder engine is inspired by the same remarkable engine that powers the iconic Honda motor vehicle, the 'Jazz'.
With the exception of the cylinder sleeves, these engines feature an all-aluminium alloy block, resulting in a very lightweight and powerful package.
LEAN BURN CONTROL
Adjusts the air/fuel mix according to speed and load to maximise efficiency.
Inclusion of lean burn control offers significantly improved fuel consumption over direct injection two-stroke models as well as over competing four-stroke models.
The mode in which lean burn control is used is referred to as ECOmo (Economy Controlled Motor).
RACING TECHNOLOGY
VTEC™ ensures smooth, stable idling with an even further reduction in fuel consumption, while the increased valve lift at high revs broadens the torque curve and provides incredible top-end power.
Variable Valve Timing and Lift Electronic Control (VTEC™) delivers more power, torque and efficiency at every speed.
At 5200rpm, a high-lift cam engages to pack more air into the combustion chamber to produce more power.
VTEC™ works to produce a longer, flatter torque profile: the ultimate in fine-tuned performance. (VTEC™: BF100 only).
TROLLING CONTROL
Trolling Control allows slow speed control with adjustments in 50rpm increments between 650-1000rpm. Trolling Control is an optional feature
on the BF100. (Please speak with your authorised Honda Marine dealer.)
Powerful 1.5L, SOHC, 16-valve, inline
four-cylinder engine.
Tiller steer option available.
4-Front Corrosion Protection. A patented, 'double-sealed' multi-layered paint process. Sacrificial anodes and stainless steel technology, along with waterproof connectors, all enhance corrosion protection.
NMEA2000® compliant.
Engine
| | |
| --- | --- |
| | BF100 |
| Type | 4-Stroke SOHC 4 Cylinder/16 Valves |
| Displacement | 1,496 cc (91.4 cubic inches) |
| Bore & Stroke | 73 mm x 89.4 mm (3.0 x 3.5 inches) |
| Full Throttle RPM Range | 5,500-6,300 RPM |
| Rated Power | 100 HP @ 5,900 RPM |
| Cooling System | Water Cooled |
| Fuel | Unleaded Gas (93 Octane) |
| Fuel Delivery | Programmed Fuel Injection |
| Ignition System | MicroComputer Programmed |
| Starting System | Electric |
| Exhaust | Through Hub |
| Lubrication | Wet Sump |
| Trim Range | -4° to +16° |
| Tilt Range | 68° |
Drive
| | |
| --- | --- |
| | BF100 |
| Gear Ratio | 2.33:1 |
| Gear Shift | F-N-R |
| Alternator (Electric Start) | 44 Amp |
| Battery Charging Power | 35 Amp |
| Propeller | Optional |
| Power Tilt | NA |
| Power Trim & Tilt | Standard |
| Gas Assisted Tilt | NA |
| Oil Pressure Alert | Standard |
| Temperature Alert | Standard |
| Rev-Limiter | Standard |
| Speedometer Pickup | Standard |
Dimensions
| | |
| --- | --- |
| | BF100 |
| Overall Width | 480 mm/18.9 inches |
Transom Height
| | |
| --- | --- |
| | BF100 |
| L Type | 508 mm/20 inches |
| X Type | 635 mm/25 inches |
Dry Weight
| | |
| --- | --- |
| | BF100 |
| L-Type | 163 kg/359 lbs. |
| X-Type | 166 kg/365 lbs. |
If you have a questions about HONDA MARINE OUTBOARD MOTORS feel free to contact us
Call +385 (0)91 72 71 866 send E-mail to info@alb.hr or fill the contact form